Custom Ingredient Manufacturing
BOC Sciences has always been concerned with human health and well-being. We are committed to research knowledge and technology related to the production of customized components for consumers to ensure their health. In drug development and manufacturing, we provide custom manufacturing of starting materials, drug intermediates, APIs, pharmaceutical excipients, and drug products for preclinical research, clinical trials, and commercialization. Not only that, but we also have the production capacity for other non-pharmaceutical components, such as agrochemicals, food additive ingredients, personal care/cosmetic ingredients and supplement ingredients. Our custom manufacturing services not only expedite the commercial availability of products, but are extremely cost-effective. Trust our process innovations and production optimizations to take your custom ingredient manufacturing to the next level.

In order to promote your project efficiently, we have designed a standardized project manufacturing process plan. Your project will proceed in an orderly manner according to our plan, which also makes it easy for you to keep abreast of the latest progress of the project.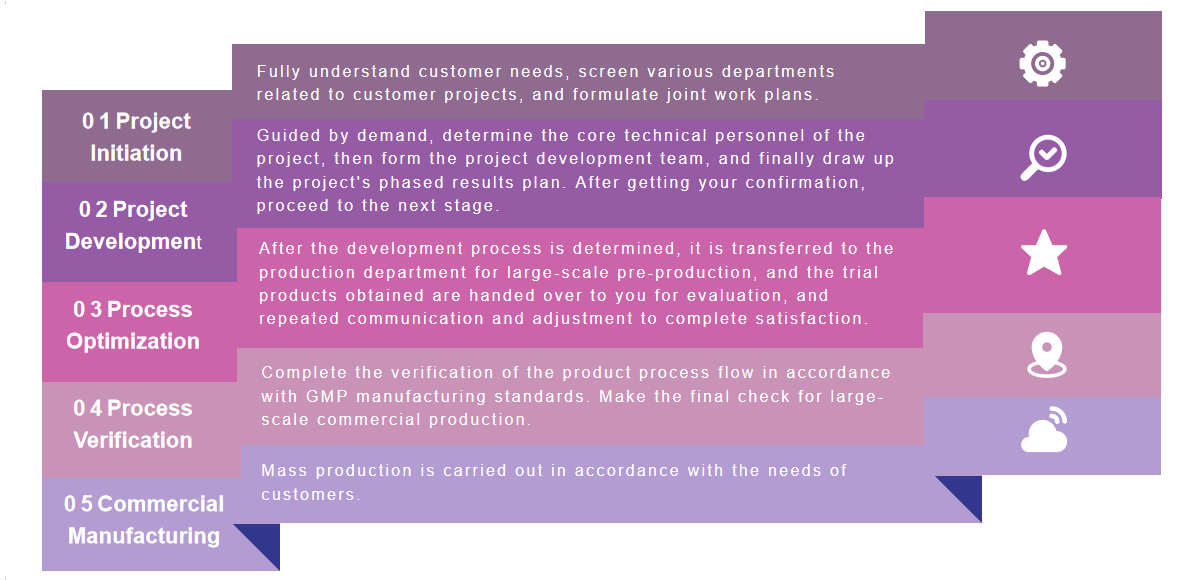 Our Advantages
Advanced Process Technology
Our R&D team has more than 30 years of rich experience. The development concept we have always implemented is to obtain products with the highest adaptability and stability in the simplest process. Over the years, we have established cooperative relations with many well-known companies, have perfectly completed process development and technology transfer time after time, and have accumulated rich experience.
Efficient Project Management
We have assigned a dedicated project manager for each project, responsible for the whole process from development to delivery. The project manager will regularly report to the customer and provide timely feedback on the update of the project. In addition, customers can also use the project management tools we provide to access real-time data about the progress of their projects 24/7.
First of all, our manufacturing plants strictly abide by GMP regulations and are reviewed by national regulatory agencies on time every year. So far, there have been no violation records. We also regularly organize all employees to receive GMP training. In order to further self-examination, we also set up an internal quality inspection team. You can review our quality system at any time.
Comprehensive Analysis Support
In order to let you deliver the project to us with more confidence, we have established a professional analysis team and equipped with a complete set of analysis equipment. At every step from process development to final delivery, we will conduct various analytical verifications, such as impurity identification, purity analysis and stability studies. In addition to working with the project, you can also choose our analytical support services individually.
If you are interested in our custom ingredient manufacturing, please contact us immediately. We are always ready to start your project.