Non-GMP & GMP Manufacturing of APIs
BOC Sciences can provide non-cGMP/cGMP pilot and commercial scale solutions for your APIs. As a global leader in chemical manufacturing solutions, BOC Sciences has experienced employees, large-scale production plants and advanced equipment, which can provide you with excellent results with quality assurance for your projects.

Kilo Lab Manufacturing
Our R&D base has multiple kilogram-level laboratories and API D-level clean rooms, which can complete the rapid synthesis of tens of kilograms of APIs.
 In the kilo laboratory stage, the existing process can be modified before further expansion, so as to maximize the success of the pilot scale process.
We have strong technology transfer capabilities and can implement undifferentiated GMP scale-up manufacturing after the process in the kilogram laboratory.
Pre-verify the products from the kilo laboratory to the scaled-up scale, and keep the samples for records after the quality is no problem. A dedicated chemical engineer is responsible for the transfer between processes.
Write a detailed process specification, and the project manager will give a detailed introduction to the customers. If you think the process needs to be adjusted, we will do it in a kilo laboratory.
The setting of kilo laboratory can save huge cost for your project. It helps our team to clearly grasp all the information of key steps and process parameters, and to ensure that the subsequent manufacturing process is smoother and more efficient.
Pilot and Commercial Scale Manufacturing
Our pilot-scale and commercial-scale manufacturing have obtained cGMP compliance certification, and can supply materials for pre-clinical, IND and early clinical trials.
Our production workshops have a total area of more than 6000 square feet, with a series of reactors ranging from 50L to 2000L, and multiple drug product (DP) filling production lines. Pilot scale up is the only way to enter commercial scale production. During the pilot scale-up, there may be an amplification effect that would not occur in laboratory-scale production.
The existence of the amplification effect will make many operations that are easy to implement or errors that are easy to correct under small-scale conditions very complicated, and in severe cases will lead to the failure of the entire project. BOC Sciences focuses on overcoming and solving the weak links of pilot scale-up technology and process, improving quality and efficiency, and further helping customers save R&D and production costs.
Various kinds of manufacturing processes, such as condensation, substitution, acylation, redox, fermentation, low temperature, high pressure and high temperature reactions, etc.
Manufacturing of APIs conforming to GMP principles from kilogram to hundred kilograms.
Production of high value-added intermediates and registered starting materials from kilo to ton.
Facilities Highlights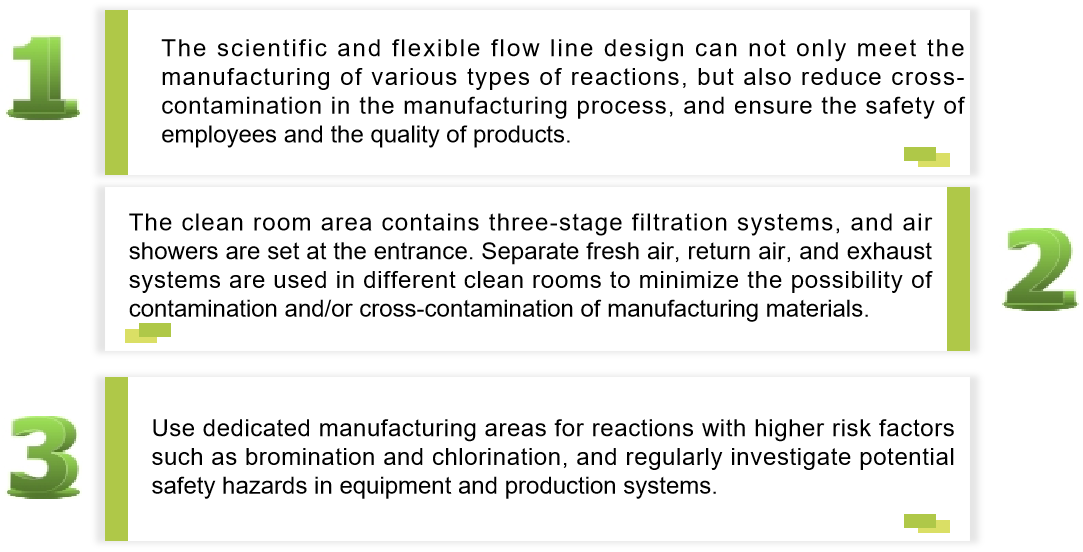 Our high-quality manufacturing services are based on scientific methods, efficient inter-departmental coordination and rich project management experience. Up to now, we have established close cooperative relations with many well-known companies from all over the world. We are constantly expanding our manufacturing scale and technical level, aiming to provide customers with safe and reliable products.
 If you are interested in our non-GMP & GMP manufacturing service of APIs, please contact us immediately.