Microbial GMP Manufacturing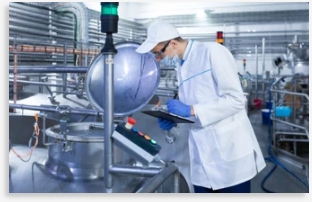 BOC Sciences' microbial production bases comply with Good Manufacturing Practice (GMP) and can provide customers with microbial fermentation products with the highest quality standards. We provide customers with one-stop services ranging from active pharmaceutical ingredients, enzymes to various fine chemicals. Through the integration of advantageous resources, our production team continuously breaks through the key technologies of microbial fermentation process, and transforms and innovates traditional processes to fully assist the smooth delivery of projects.
Production Capacity
BOC Sciences builds a world-class microbial fermentation technology platform, providing a variety of services from strain development to fermentation, purification and so on. We have more than 20 years of rich experience, providing good technical support for microbial GMP production.
Examples of business areas:

Facility Display
As a leader in microbial production, BOC Sciences has a variety of complex processes and high volume production capabilities. We aim to help our clients develop streamlined and controlled manufacturing processes, and to support clients throughout their product journey from pre-clinical through various clinical stages to market entry.
Examples of equipment and processes:
Equipment
Equipment of upstream process for fermentation, centrifugation and filtration.
Fully automatic fermenters of different volumes from 4,000L to 12,000L, over 100,000 liters capability in total.
Recovery and downstream equipment, ranging from industrial-scale chromatography systems, membrane systems to larger scale continuous centrifuges.
Equipment for waste treatment.
Processes
Combining quantitative metabolomics with the continuous fermentation process, the automatic control of various parameters to maintain a certain level, the improvement of equipment utilization and the output per unit time, and the optimization of the fermentation process.
Immobilized Cell Technology
By confining cells within certain spatial boundaries, they retain catalytic activity and can be used repeatedly or continuously over a longer period of time.
Specifications & Guidelines
BOC Sciences excels in ensuring uptime and robust performance of microbial production processes. We always pay close attention to the quality and safety of microbial products in the production process, and have established a series of production specification systems in strict accordance with regulatory guidelines, covering sterility testing, biological protection and pollution prevention.

Highlights
Professional team of microbial fermentation engineers. Able to skillfully complete the construction of the production line
Strict process parameter control, in full accordance with the process regulations, to ensure product quality
Reasonably analyze the non-compliance phenomenon in the production process, solve the unexpected situation, and keep the equipment running normally
If you are interested in our microbial GMP manufacturing service, please contact us immediately.